How to get to the Discovery Islands
getting here is part of the adventure
The Discovery Islands are located at the north end of the Strait of Georgia jammed between Vancouver Island and mainland British Columbia.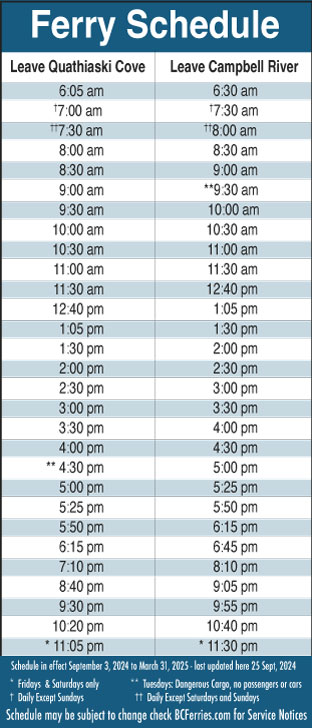 To reach the islands by road: from Vancouver BC, ferry services run from Horseshoe Bay to Nanaimo, Tsawassen to Duke Point, Nanaimo and Tsawassen to Swartz Bay, Victoria. Drive north on the Island Highway #19 or take the scenic Oceanside Route #19A to Campbell River.
Quadra Island
Once in Campbell River, locate the ferry terminal to Quadra Island right downtown on the waterfront along the Old Island Highway. Ferry times run as per the schedule shown.
Cortes Island
To reach Cortes Island, follow directions for Quadra Island. Once arrived in Quathiaski Cove, Quadra Island follow the clearly posted signs to the Cortes Ferry in Heriot Bay. It's about a ten minute drive across to Heriot Bay. Cortes ferry times are as shown on the schedule to the right.
There's plenty of time and no drive above the speed limit!
For more information
For complete information about ferry services to Vancouver Island and the Discovery Islands, visit BC Ferries web site.