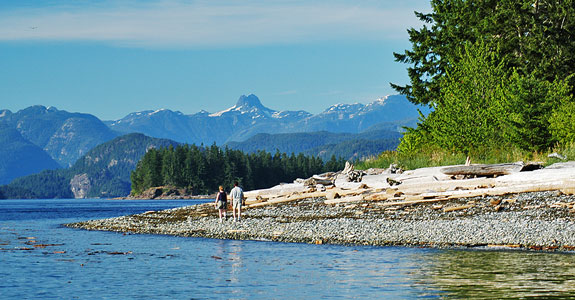 Quadra Island
Located across Discovery Passage from Campbell River, Quadra Island is home to a vibrant community with strong ties to the land and sea. Some islanders continue to make their living in traditional resource-based industries like fishing and forestry. Others work as artists, writers, shop and gallery owners, and in a full complement of professional services. A large number of active, community-minded retirees live on the island.
Local Events
From festivals to cultural performances--are largely organized by volunteers. Known for its inspiring natural beauty and relaxed atmosphere, Quadra is an ideal destination for unforgettable experiences. The island also offers excellent sightseeing and shopping opportunities.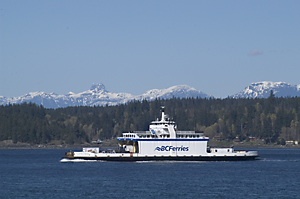 The adventure begins as soon as you board the ferry in Campbell River. During the scenic 10-minute crossing, look out for orca whales, porpoises, seals, otters, and bald eagles. Navigating the swift flowing tides of Discovery Passage, the ferry travels the same waters as the island's namesake, Don Juan Francisco de la Bodega y Quadra, did 200 years ago. Quadra and Captain George Vancouver were the first European explorers to make contact with the First Nations people, who have been living in the area for thousands of years.
Services
Quathiaski Cove and Heriot Bay have grocery stores, post offices, hair salons, laundromats, restaurants, and pubs. There are two doctors and a dentist maintaining separate clinics on the island, as well as a pharmacy. Quadra also has a credit union, building supply store, gas station, and taxi service. The Tourist Information Booth, located next to the credit union in Quathiaski Cove, is open from mid-June until the Labour Day weekend. The Quadra Community Centre and Quadra Children's Centre both operate summer programs for kids. A skateboard park, tennis court, and two baseball diamonds are located next to the Community Centre. Camp Homewood offers a variety of programs for kids, teens, and families.
Our Community
Quadra Island is home to approximately 2,700 year-round residents. The island's population swells during the summer with the arrival of seasonal residents, tourists from near and far, and seasonal workers. Most of the full time residents live on the southern half of the island, with the three main population centres located at Quathiaski Cove, Heriot Bay, and Cape Mudge Village. Cape Mudge Village (Yucalta), at the south end of the island, is home to the Wei-Wai-Kai band of the Kwagiulth First Nation. In order to make the most out of a visit to Quadra, it's best to stay for at least a few days. A wide range of accommodation is available on the island, including campgrounds, bed and breakfasts, and resorts.
Arts and Culture
Quadra Island is rich in culture, history, and the arts. The Nuyumbalees Cultural Centre in Cape Mudge Village houses a fascinating collection of First Nations ceremonial regalia, and offers guided tours and cultural programs. The museum's Carving and Artist Centre is an exhibition site for historic totem poles and a venue for artists.
Quadra is home to many talented artisans, and shopping for original art is an enjoyable way to become more familiar with the island. Painters, potters, and carvers open their studios and galleries to the public and welcome visitors.
The Quadra Island Arts Alliance have an excellent online list of Quadra artists, galleries & studios. Watch for a map of all the Studios open to the public and best of all, time your visit to coincide with the annual Quadra Island Studio Tour. A number of retail outlets stock a variety of local art and crafts, including First Nations art. The Farmers' Market, held every Saturday from May to October in Quathiaski Cove, features vendors selling farm fresh produce, home baking, and a wide range of crafts.
Quadra Island Annual Highlights
For more than 100 years Quadra Islanders have celebrated May Day, complete with a festive parade, May Pole dancers, and sailing races at Rebecca Spit. This day of fun activities for the whole family is topped off with the annual May Day Dance. The Quadra Island Studio Tour offers an inside view into the creative lives of island artists. Visit 12 unique island gardens during the annual Quadra Garden & Quilt Tour.
Canada Day celebrations are held at venues around the whole island on July 1 and usually there's a big community event at the community centre to cap things off. Summer winds down with Quadrapalooza annual music festival.
An event firmly planted on the island calendar in early September is the Annual Quadra Island Fall Fair.
For more information about annual events, fairs and festivals on Quadra Island click here>
Alternative Health
Need to work out some kinks? Quadra's holistic health practitioners offer a variety of alternative therapies, including acupuncture, massage, and other bodywork services. Yoga classes, Tai Chi, and meditation groups meet year round. Check bulletin boards or the Quadra Recreation Society brochure for up-to-date schedules.
Accommodation
Quadra offers a range of accommodation options, including lodges, resorts, bed and breakfasts, and rental cabins. Longing to fall asleep to the sound of a loon beyond your tent, or perhaps to plug in your RV? Tenting and RV campgrounds offer lots of choice. Booking your accommodation in advance is a good idea, especially in the height of the summer season.
For complete information about accommodation on Quadra Island
click here>
Dining & Entertainment
Quadra restaurants, cafés, and pubs offer a variety of cuisine from West Coast seafood to gourmet pizza. Live music is a regular attraction at island pubs, coffee shops, and resorts, featuring talented local and visiting musicians. Check the bulletin boards and Quadra Recreation Society brochure to find out about upcoming cultural performances and events at the Community Centre.
Visit QuadraIsland.ca for detailed information about dining and coming events