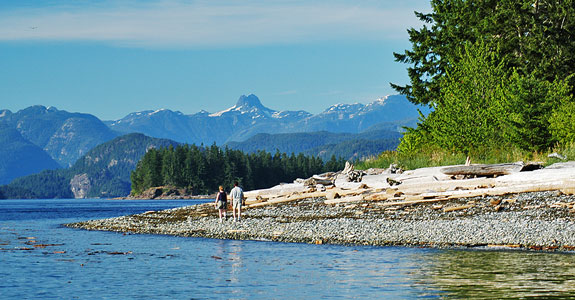 Outdoor Activities on Quadra Island
so much to do and see on Quadra Island
Hiking

Hiking opportunities are plentiful on Quadra, whether you fancy a gentle stroll or a more vigorous all-day hike. Islanders volunteer their time to maintain and expand the network of over 200 km of trails on the island. Some of the trails date back to the late 1800s, before residents had the benefit of well-maintained roads to visit one another. Quadra's hiking trails traverse a wide range of terrain, including beaches, broad open meadows, mountains, and forests.
Pick up a copy of the Quadra Island Trails Map for trail descriptions and directions. Proceeds from map sales go to the Quadra Island Recreation Society's Trails Committee. Guided hiking tours are also available. For an online map of Quadra Island hiking trails click here.
Cycling and Mountain Biking
One of the best ways to see Quadra, cycling is an inexpensive and relaxing island activity. You can choose to tour Quadra's scenic roadways or to explore the many trails on the island, ranging from easy to challenging. Many interesting sights are within a short pedalling distance of Quathiaski Cove or Heriot Bay. Guided cycling tours and rentals are available.
There are hundreds of kilometres of incredible mountain biking trails on Quadra Island. Many of the hiking trails accommodate mountain biking and in addition many new dedicated riding trails have been constructed all over the island. The majority are cross-country trails with well-crafted technical drops and features. For a detailed map of mountain bike trails and routes click here.
Golfing
Quadra Island has a new golf course that opened in the summer of 2012. The first nine holes are complete and the course has quickly made a big impression on the island golfing community. This is a spectacular, natural course with fairways running through evergreen trees and eye-popping views of Sutil Channel and the snow-capped mainland mountains.For more info visit the course web site
Scenery & Parks
Quadra Island is part of an island group that is unrivalled for its scenic beauty and ecological value. The vibrant forest is home to a variety of wildlife including eagles, heron, deer, wolf, bear and cougars. On and in the surrounding water live: porpoise, seals, sea lions, salmon, dolphins and occassionally whales. Although most of Quadra's forests were cut down in the early 1900's the forest is now returning to maturity and is a delight to experience.
Some of the more significant areas of Quadra Island are protected and managed as provincial parks. Parks on Quadra include:
Rebecca Spit Provincial Park is the jewel of Quadra Island and by far and away the most visited park. The spit is formed by long-shore-drift. Winter storm waves rolling up the Salish Sea push sand, pebbles and smooth polished rocks along the shore making an elegant arc protecting the waters of Drew Harbour. Rebecca Spit has lovely walking trails through the trees, contrasting beaches; warm and protected on the inside and dramatic views on the exposed outside. The park serves the community as a venue for annual festivals and smaller events. BC Parks page>
Blenkin Regional Park is the home of the Quadra Community Centre and is located centrally along West Road between Quathiaski Cove and Heriot Bay. The focus here is on recreation and on community events. The park has tennis courts, a skate park, bike jump park, ball fields, playgrounds and a horse riding ring. The community centre has meeting rooms, a large main central hall and offices of the Quadra Recreation Society who organize a dazzling array of events, workshops and initiatives year round. The park has a large area of forest with a maze of walking and riding trails.
Visit QuadraRec.bc.ca for more information about Belnkin Park and the Quadra Recreation Society.
Main Lake Provincial Park is home to some of the largest freshwater lakes found on the islands of the Georgia Basin and is the largest park in the Discovery Islands. Highlights of this park are: the giant douglas fir trees around Stramberg Lake, the canoe camping circuit through the lake chain, the portage route to saltwater at Yeatman Bay and hiking the old roads and backcountry routes through the forest.
Neighbouring Village Bay Lake has a cluster of lakeside cottages and is a popular swimming and boating destination. Note there is a <10hp restriction on boats on Village Bay Lake and the Main Lakes chain. BC Parks page>
Surge Narrows Provincial Park is the site of some of the world's fastest tidal currents where the channel between Quadra Island's east shore and Maurelle Island is blocked by a group of small islets in the narrows. A trail is planned from the Surge Narrows Road and the narrows. BC Parks page>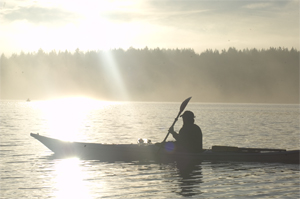 Small Inlet Provincial Park as the name suggests is a picture-perfect example of a landscape feature common in this region but rarely formed as perfectly as Small Inlet. An ideal sea kayak day trip from Granite Bay. Portage trail leads through forest to Wiatt Bay and the Octopus Islands. BC Parks page>
Octopus Islands Provincial Park
Cluster of small islets at the mouth of Wiatt Bay on Quadra's north east corner. Popular moorage and superb sea kayaking destination. BC Parks page>
Boating & Fishing
Quadra's rich marine environment and extensive freshwater lakes system provide many choices for boaters and anglers. The sheltered waters on the east side of Quadra are ideal for sea kayaking. Local kayak companies offer day, multi-day, and mothership tours, as well as rentals. With full service marinas and safe anchorages, Quadra is a popular sailing destination close to Desolation Sound. The island is surrounded by hot fishing spots, luring many anglers back year after year. Enhance your island experience by going on a guided fishing, sailing, or wildlife-viewing boat trip.
Diving
Blessed by some of the clearest waters in the world inhabited by a diverse array of marine plant and animal species, Quadra is a mecca for scuba divers. The HMCS Columbia was sunk off Quadra's shoreline in 1996, creating an artificial reef for underwater life. Named one of the top locations for diving in the world by the Jacques Cousteau Society, Quadra offers a variety of dives for people of all ability levels. Local dive companies offer charters and equipment rentals. For a list of local dive charters click here.